KATRINA

/ Waters Rise in New Orleans

"This is our Tsunami"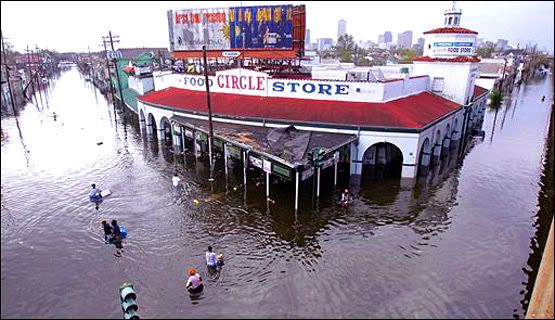 City's levees break; estimated 80 dead in one Mississippi county
Mayor: "80% of New Orleans under water"
GULFPORT, Miss. — Death and destruction ravaged the severely storm-battered Gulf Coast Tuesday, with as many as 80 dead in one Mississippi county alone as the frantic search for survivors of Hurricane Katrina continued.

"We have nowhere to go," one broken man whose wife and house were swept away by floodwaters in Gulfport, Miss., told FOX News. "I lost everything. That's all I had. That's all I had."

Mississippi Gov. Haley Barbour said there were unconfirmed reports of up to 80 deaths in Harrison County, which includes Gulfport and Biloxi, and the number was likely to rise. At least five other deaths across the Gulf Coast were blamed on Katrina.

"The devastation down there is just enormous," Barbour said on NBC's "Today" show, the morning after Katrina howled ashore with winds of 145 mph and engulfed thousands of homes in one of the most punishing storms on record in the United States.

The death toll does not include 11 deaths in South Florida when a much-weaker Katrina first hit land last week.

The biggest known cluster of deaths was at the Quiet Water Beach apartments in Biloxi, a red-brick beachfront complex of about 100 units. Harrison County, Miss., emergency operations center spokesman Jim Pollard said about 30 people died there.

"This is our tsunami," Biloxi Mayor A.J. Holloway told the Biloxi Sun Herald.

Joy Schovest, 55, was in the apartment complex with her boyfriend, Joe Calvin, when the water began rising. They stayed despite a mandatory evacuation order.


"The water got higher and higher," she said, breaking into tears. "It pushed all the doors open and we swam out. We grabbed a lady and pulled her out the window and then we swam with the current. It was terrifying. You should have seen the cars floating around us. We had to push them away when we were trying to swim."

The Red Cross told reporters the Katrina relief effort would be bigger than that of Sept. 11.

"We know that there is a lot of the coast that we have not been able to get to," Barbour said. "I hate to say it, but it looks like it is a very bad disaster in terms of human life."

Floodwaters engulfed entire towns and cities, power was out, phone service was down and many were stranded. Thousands of National Guardsmen were activated in Louisiana, Mississippi, Alabama and Florida.

The White House announced that President Bush would be cutting his vacation short and returning to Washington a few days early to monitor the recovery effort.

"We have got a lot of work to do," Bush said Tuesday.

The president had been scheduled to return to the nation's capital on Friday, after spending more than four weeks operating from his ranch in Crawford, Central Texas.

In New Orleans, water began rising in the streets Tuesday morning, apparently because of a break on a levee along a canal leading to Lake Pontchartrain. New Orleans lies mostly below sea level and is protected by a network of pumps, canals and levees. Many of the pumps were not working Tuesday morning.

Water was knee-deep around the Superdome and lapped at the edge of the French Quarter. Canal Street was literally a canal. Little islands of red ants floated in the gasoline-fouled waters through downtown. The Hyatt Hotel and other high-rise buildings around the Superdome had rows and rows of shattered windows. The city considered bringing in barges to provide electricity.

The mayor issued an emergency evacuation order.

"At first light, the devastation is greater than our worst fears. It's just totally overwhelming," Louisiana Gov. Kathleen Blanco said.

Officials planned to use helicopters to drop 3,000-pound sandbags into the breach, and expressed confidence the problem could be solved within hours.

"It's a very slow rise, and it will remain so until we plug that breach. I think we can get it stabilized in a few hours," said Terry Ebbert, New Orleans' homeland security chief.

Louisiana officials said people in some swamped neighborhoods were feared dead, but gave no immediate numbers.

As for the death toll in Louisiana, the governor said only: "We have no counts whatsoever, but we know many lives have been lost."

New Orleans, a city of 480,000, was mostly evacuated over the weekend as Katrina
closed in, but those who stayed behind faced another, delayed threat: rising water. Failed pumps and levees apparently sent water from Lake Pontchartrain coursing through the streets.

Downtown streets that were relatively clear in the hours after the storm were filled with 1 to 1 1/2 feet of water Tuesday morning.

The rising water forced one New Orleans hospital to move patients to the Louisiana Superdome, where some 10,000 people had taken shelter, and prompted the staff of New Orleans' Times-Picayune newspaper to abandon its offices, authorities said.

National Guardsmen brought in people from outlying areas to the Superdome in the backs of big 2 1/2-ton Army trucks. Louisiana's wildlife enforcement department also brought people in on the backs of their pickups. Some were wet, some were in wheelchairs, some were holding babies and nothing else.

"All I know is when my people go out, they tell me there are a lot of people awaiting rescue. I hear there are hundreds of people still on their rooftops," said Gen. Ralph Lupin, commander of National Guard troops at the Superdome in New Orleans.

Louisiana emergency operations officials in Baton Rouge said people could not go home. Bridges connecting mainland Louisiana and New Orleans were washed away and parts of Interstate 10 were underwater.

Reports that martial law had been declared in New Orleans proved to be false.

All along the Gulf Coast, tree trunks, downed power lines and trees, and chunks of broken concrete in the streets hampered rescue efforts, which were being conducted by boat and helicopter.

Swirling water in many areas contained hidden dangers. Crews worked to clear highways. Along one Mississippi highway, motorists themselves used chainsaws to remove trees blocking the road.

Officials said it could be a week or more before many of the evacuees are allowed back. They warned people against trying to return to their homes while the rescue and recovery are still going on.

"I don't want anyone not in the city to come back. What we're doing is trying to make the best of a bad situation and we need people to cooperate," New Orleans Police Chief Eddie Compass said.


Across the Gulf Coast, people were rescued as they clung to rooftops, hundreds of trees were uprooted and sailboats were flung about like toys when Katrina crashed ashore in what could become the most expensive storm in U.S. history.

The hurricane knocked out power to more than 1 million people from Louisiana to the Florida Panhandle, and authorities said it could be two months before electricity is restored to everyone.

"We know that last night we had over 300 folks that we could confirm were on tops of roofs and waiting for our assistance. We pushed hard all throughout the night. We hoisted over 100 folks last night just in the Mississippi area. Our crews over New Orleans probably did twice that," Capt. Dave Callahan of the Coast Guard Aviation Training Center in Mississippi said on ABC.

Teresa Kavanagh, 35, of Biloxi, shook her head is disbelief as she took photographs of the damage in her hometown.

"Total devastation. Apartment complexes are wiped clean. We're going to rebuild, but it's going to take long time. Houses that withstood Camille are nothing but slab now," she said. Hurricane Camille killed 256 people in Louisiana and Mississippi in 1969.

In Biloxi mayor's office said the storm's surge put at least five casinos out of commission. The Hard Rock Cafe and Beau Rivage were severely damaged. The bottom floors of a condominium were all but washed away. All that remained of one hotel was the toilets.

Katrina's surge also demolished major bridges along the coast. The storm swept sailboats onto city streets in Gulfport and obliterated hundreds of waterfront homes, businesses, community landmarks and condominiums.

A foot of water swamped the emergency operations center at the Hancock County courthouse — which sits 30 feet above sea level. The back of the courthouse collapsed under the onslaught.

Katrina also disrupted petroleum output in the very center of the U.S. oil refining industry and rattled energy markets.

Oil prices jumped by more than $3 a barrel on Tuesday, climbing above $70 a barrel, amid uncertainty about the extent of the damage to the Gulf region's refineries and drilling platforms.

According to preliminary assessments by AIR Worldwide Corp., a risk assessment company, the insurance industry faces as much as $26 billion in claims from Katrina. That would make Katrina more expensive than the previous record-setting storm, Hurricane Andrew, which caused some $21 billion in insured losses in 1992 to property in Florida and along the Gulf Coast.

Mississippi's economy was dealt a blow that could run into the millions, as the storm shuttered the flashy casinos that dot its coast. The governor said emergency officials had reports of water reaching the third floors of some casinos.

After striking the Gulf Coast as a Category 4 hurricane, Katrina was soon downgraded to a tropical storm as it passed through eastern Mississippi, moving north at 21 mph.

By midday Tuesday, Katrina weakened to a tropical depression, with winds around 35 mph. It was moving northeast through Tennessee at around 21 mph.

Forecasters said that as the storm moves north over the next few days, it could swamp the Tennessee and Ohio valleys with a potentially ruinous 8 inches or more of rain. On Monday, Katrina's remnants spun off tornadoes and other storms in Georgia that smashed dozens of buildings and were blamed for at least one death.

At the Superdome, where power was lost early Monday, thousands spent a second night in the dark bleachers. With the air conditioning off, the carpets were soggy, the bricks were slick with condensation and anxiety was rising.

"Everybody wants to go see their house. We want to know what's happened to us. It's

hot, it's miserable and, on top of that, you're worried about your house," said Rosetta Junne, 37.

A water main broke in New Orleans, making it unsafe to drink the city's water without first boiling it. And police made several arrests for looting.

In a particularly low-lying neighborhood on the south shore of Louisiana's Lake Pontchartrain, a levee along a canal gave way and forced dozens of residents to flee or scramble to the roofs when water rose to their gutters.

"I've never encountered anything like it in my life. It just kept rising and rising and rising," said Bryan Vernon, who spent three hours on his roof, screaming over howling winds for someone to save him and his fiancée.

Across a street that had turned into a river bobbing with garbage cans, trash and old tires, a woman leaned from the second-story window of a brick home and pleaded to be rescued. "There are three kids in here," the woman said. "Can you help us?"

In a subdivision of Gulfport, young children clung to one another in a small blue boat Monday evening as neighbors shuffled them out of the neighborhood.

"Let me tell you something, folks. I've been out there. It's complete devastation," Gulfport Fire Chief Pat Sullivan said Monday. He estimated that 75 percent of buildings in Gulfport have major roof damage, "if they have a roof left at all."

Harrison County coroner Gary Hargrove said rescuers in flood areas should focus first on finding those who are still alive rather than worrying about floating bodies they might come across.

"If they're dead, they're dead," Hargrove said. "We've got the living to take care of."

Mike Spencer of Gulfport made the mistake of trying to ride out the storm in his house. He told NBC that he used his grandson's little surfboard to make his way around the house as the water rose around him.

Finally, he said, "as the house just filled up with water, it forced me into the attic, and then I ended up kicking out the wall and climbing up to a tree because the houses around me were just disappearing." He said he wrapped himself around a tree branch and waited four or five hours.

Anne Anderson said she lost her family home in Gulfport.

"My family's an old Mississippi family. I had antiques, 150 years old or more, they're all gone. We have just basically a slab," she told NBC. She added: "Behind us we have a beautiful sunrise and sunset, and that is going to be what I'm going to miss the most, sitting on the porch watching those."

FOX News' Catherine Donaldson-Evans, Caroline Shively, Shepard Smith and The Associated Press contributed to this report.